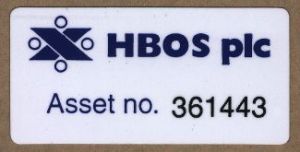 200 Micron Asset Labels
These labels are made from 200 micron plastic using Very Strong Bond adhesive, making them extremely durable.
A range of labels all with sequential numbering and barcodes.
Labels can be over-laminated with a gloss or matt finish to provide complete print protection. This is essential where durability is a requirement e.g. protection against cleaning fluid, damp environment, outside use or constant wiping.
Labels can be bar coded or sequentially numbered for uniquely identifying your product during or after manufacture or for asset identification within your organisation e.g. computers, laptops, printers, projectors, instruments & any other equipment that may require identification.
Prices are available for small requirements (500 & 1000) right through to much larger runs (100k, 250k & 500k).
Labels can be customised with your name or company logo and details adding colour and identification to your product.