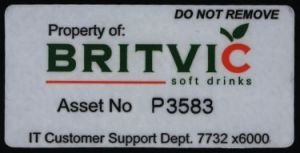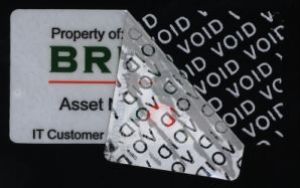 Tamper Eviident Asset Labels
Leave the word VOID on the item when removed.
A range of labels all with sequential numbering and barcodes.

Manufactured from tough polyester this material is ideal for discouraging any form of tampering with assets or products.
If any attempt is made to remove or transfer the label, the word 'void' will appear on both the surface of the product and the label itself thereby preventing re-use e.g. protection against warranty fraud.
Labels can be over-laminated to provide complete print protection. This is essential where durability is a requirement e.g. protection against cleaning fluid, damp environment, outside use or constant wiping.
Labels can be bar coded or sequentially numbered which makes them ideal for tracking products during manufacture or for asset identification within your organisation e.g. computers, laptops, printers, projectors, instruments & any other equipment that may require identification.
Prices are available for small requirements (500 &1000) right through to much larger runs (100k, 250k & 500k).
Labels can be customised with your name or company logo and details adding colour and identification to your product.