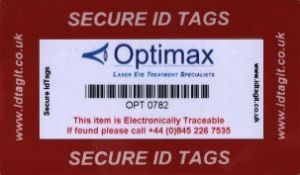 Customised Secure Id Tag
You can now permanently mark your property as yours, with secure Id Tags and at the same time identify the property with your Company name and logo. We will produce your Id Tags in any quantity from 10 to 100,000+
Available in 760 micron PVC

Permanent fixing with acrylic security adhesive
Customised mirror writing to make a tattoo
Protective cover
Individual bar coding
Traceable back to you
Registration on our secure offline database for life
NO YEARLY FEES
Can be customised with your company logo and details adding colour and identification to your property.
Due to our latest tag printing technology we will produce a small run of 10 customised secure Id Tags for you, for 30GBP + VAT. This is just 3GBP each and includes all you need to secure your personalised Id Tags to your Laptop, PC's, printers etc. Also included is a free option to register on our National Security Database for the life of the item.