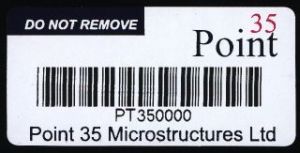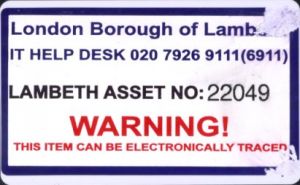 Tamper-proof Asset Labels
Break into tiny pieces when removal is attempted.
A range of labels all with sequential numbering and barcodes.

These labels are made from a very thin gauge white vinyl with a strong adhesive. If any attempt is made to remove or transfer the label it will break into small fragments making it impossible to remove in one piece. When applied to a clean, grease free surface, adhesion will be maximised after 24 hours, which is ideal for warranty protection and calibration seals.
Labels can be bar coded or sequentially numbered for uniquely identifying your product during or after manufacture or for asset identification within your organisation e.g. computers, laptops, printers, projectors, instruments & any other equipment that may require identification.
Prices are available for small requirements (500 & 1000) right through to much larger runs (100k, 250k & 500k).
Labels can be customised with your name or company logo and details adding colour and identification to your product.